The Best Automatic Sprouter
The EasyGreen "Light" Sprouter (EGL 50) is one of the most convenient devices for growing sprouts, micro-greens, wheatgrass, grasses for juicing, and many other seedlings. The automatic water mister, sprouting enclosure, and drainage system help ensure a healthy, consistent, yet flexible, growing environment.
[add_to_cart item="1015″ quantity="user:1″ ajax="yes" ]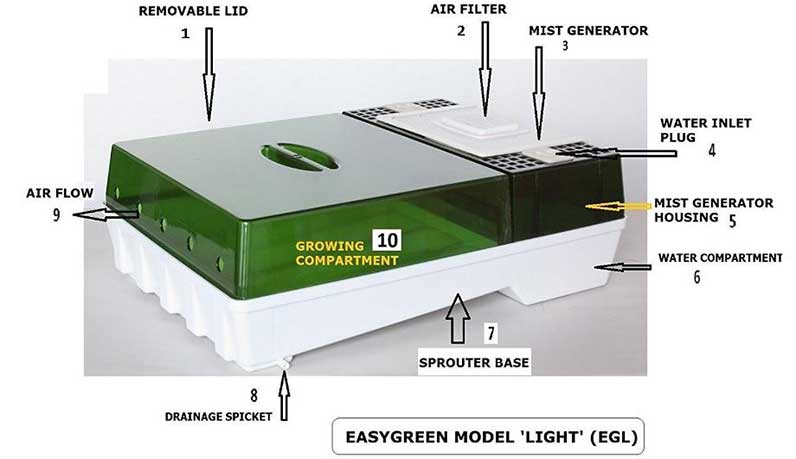 Features:
Patented Mist Generator technology simultaneously distributes mist and oxygen to seeds and sprouts.
Water Tank feeds mister up to 36 hour supply depending on timer and environmental conditions
Plugs on top of water take for easy filling
Special timer allows 15 minute misting cycles up to 48 times per day accommodating meteorological conditions and varying seed requirements.
5 Individual Seed Trays allow growing a variety of sprouts at one time
Seed Trays drain into the bed helping seeds and sprouts from becoming oversaturated
Automatic bed drain helps prevent over saturation and the potential of mold
Airflow Lid allows for airflow in growing compartment
Lid has handle for easy access to growing compartment.
Modular construction allows easy assembly and cleaning or most parts
OPTIONALLY AVAILABLE is a large tray which is handy for a single large crop
What is Included:

 
EasyGreen Light Sprouter Model EGL 50

Mist Generator with Air Filter

5 ea Food Grade Plastic Cartridges

96 Activation Timer – 110v/60Hz

Set of Plugs for water tank

Drainage Connection and Tube

Installation Instructions
 [add_to_cart item="1015″ quantity="user:1″ ajax="yes" ]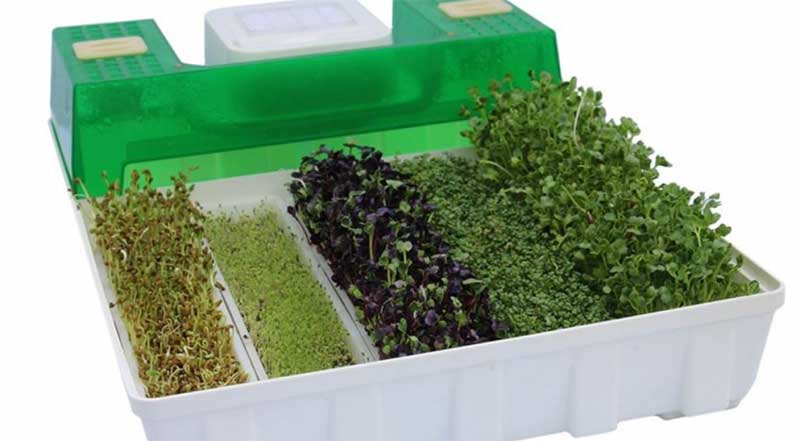 ---
Click here to check out the new float valve automatic watering system and you'll never have to add water to your Easygreen again.
[add_to_cart item="1009″ showprice="no" quantity="user:1″ ]
---
Specifications

  
Model EGL 50

Dimensions  22″ L x 16″ W x 7.0″ H

Growing Area – 14.5″ x 13.75″

Standing Weight: 8.5 Lbs

EGL and Timer Power 110V 60Hz; standard USA plug

Power Draw  10 Watts

CE Certified; BPA Free Certified

Manufacturer's Limited Warranty 

 Mister 1 year; Plastic Parts 2 years