Sunflower Seeds for Sprouting – Organic Seeds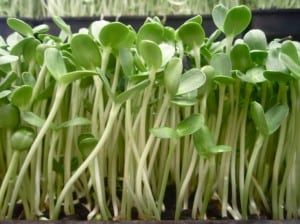 Sunflower seeds for sprouting grow into what are called sunflower sprout greens. They obviously are great in salads and sandwhiches and can be juiced as well. Sprouted sunflower seeds, called sunflower greens, are know for their crispness and nutty flavor and are a rich source of lecithing and vitamin D. They are a great source of nutrition providing essential vitamins, minerals, fiber, amino acids and phytosterols which reduce cholesterol and enhance the immune system. The sprouting of the sunflower seeds actually multiplies the nutritional value over the unsprouted seeds from three hundred to twelve hundred percent.
---
| Online Retailer: | Price Per Pound: |
| --- | --- |
| OrganicSproutingSeeds.com | $6.99 |
| Sproutman | $7.49 |
| Sprout People | $7.65 |
| Amazon | $7.90 |
| Wheat Grass Kits | $7.90 |
| Mumm's | $7.93 |
| Sprout House | $12.95 |
---
Sprouting seeds ship to U.S. only.
---
Growing Sunflower Seeds for Sprouting
I've grown sunflower sprouts with or without soil and have had equally good results. The best way to grow them is to soak the seed for 6 to 8 hours. Rinsed them and place in a tray with or without dirt (experiment to see what works best for you). Keep out of direct sunlight. Rinse at least twice a day. In seven to 10 days you will have a nice crop of sunflower greens. To harvest cut them off with scissors near the base of the plant, rinse and place in the frig. Happy sprouting!
---
Sunflower Seeds for Sprouting

Here are some other sprouting related sites that we found for you to browse. Thank you for visiting the Organic Sprouting Seeds website.
A Bean is a Seed
Sprouts - Sprouting Questions
Reducing Microbial Food Safety Hazards For Sprouted Seeds
sprouting - Dictionary.com - Reference.com
BBC - Gardening: Plant Finder - Sprouting broccoli
BBC - Food - Recipes : Pasta with purple sprouting broccoli
BBC - mbfood Food Q&A - Sprouting Seeds
Concerned about sprouts? Food Safety.gov answers frequently ...
mung bean: Definition from Answers.com