Seaweed Extract Plant Growth Elixir
A Powerful Ocean-Derived, Full-Spectrum Nutrient Formula Seaweed Extract for Enhancing the Growth and Flavor of Greens, Wheatgrass and Herbs
The first and ONLY seaweed extract liquid fertilizer that actually sweetens wheatgrass juice!
We noticed that there wasn't a single all-purpose fertilizer on the market made specifically for improving the growth-rate, nutritional value, and FLAVOR of wheatgrass and sprouts — the healthiest, most curative living foods known.
So one was created for just that purpose.
After years of research and testing, we're pleased to introduce a completely unique, 100% natural and organic seaweed extract formula that does what we originally had in mind … and MORE. In addition to enhancing the growth, taste, and nutrient content of all germinated seeds, grasses and baby greens, our state-of-the-art Seaweed Extract Elixir does the same for all ADULT green crops and vegetables — plus herbs.
Just imagine this: No longer will your medicinal wheatgrass juice taste like mowed lawn — now you can finally treat yourself to invigorating shots of healthy sweet delight!
---
  8.45 oz.
---
~ This new seaweed extract solution is made from a specific seaweed harvested from the Yellow Sea — food-grade Laminaria Japonica — that contains most, if not all, of the trace elements, macro- and micro-nutrients that the scientific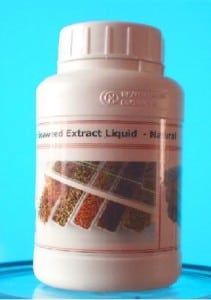 community is now recognizing for their importance in the growing cycle of plants. Further, these natural elements are in a perfectly balanced, fully bio-available form ready to be absorbed by everything from sprouting greens to adult lettuces.
~ The quality, purity, and potency of the ingredients used to create our Seaweed Elixir are superior to those of any other product on the market. Tested with commercial greenhouses and botanical laboratories,  a major oceanography university has been licensed to produce our proprietary formula, which causes vegetation to grow faster and bigger, with healthier root systems, by accelerating cell growth and replication while building the immune systems of the plants. By adding magnesium and strontium to the formula, which have antibacterial and antiviral properties, it also helps to minimize the risk of mold and rotting. And owing to its high concentration of algal polysaccharides, a natural sugar, this unique fertilizer is a powerful enhancer of flavor and aroma — even giving you sweeter, better-tasting wheatgrass.
~ Suitable for all soil AND soil-free gardening methods, Seaweed Elixir seaweed extract  is almost translucent emerald green in color, and therefore doesn't stain growing equipment, hydroponic or otherwise — unlike the old dark brown liquid kelp.
~ The Seaweed Extract comes in an 8.45 oz. bottle. Sprouts do not require enhancement with any fertilizer. Sprouts cannot absorb nutrition as they are harvested before the sprout develops lateral roots. Our Seaweed Fertilizer is best used for crops that are harvested in 8 to 12 days.  Micro greens such as buckwheat, sunflower and wheatgrass will substantially be benefited from this product. The Extract is highly concentrated and should be diluted with 1 to 2 teaspoons for every 1.3 gallons of water.
---
 8.45 oz.
---

Here are some other sprouting related sites that we found for you to browse. Thank you for visiting the Organic Sprouting Seed website.
soybean: Definition from Answers.com
Environment - Effect of Sprouting on Seed Quality
Germinate | Define Germinate at Dictionary.com